Rego Park Vehicle Wraps
VIEW GALLERY
Traditional static signs are the standard of a business's visual marketing tools. Many choose channel letter storefront signs or vinyl clings for their interior design. However, one amazing option that businesses typically overlook is a vehicle wrap.
With Queens Printing Services's Rego Park vehicle wraps, you can bring your brand anywhere your car goes! We will cover your business van, truck, or sedan with highly attractive graphics, so your business presence will reach people who are miles away from your headquarters.
And unlike billboards or posters that demand attention, vehicle wraps are not intrusive. They are more effective because they are passive forms of advertising. Even if your vehicle is parked in some random parking lot, it can be an effective promotional tool!
Let Queens Printing Services be your partner in acquiring the best Rego Park vehicle wraps in the market! We are a top-notch signage company that can provide everything you need, from the materials and original graphic designs to the installation and repair services you will need. We have just the perfect professionals for all your vehicle wrap needs!
Call Queens Printing Services today at (917) 651-0524 for your Free Consultation with a Rego Park Vehicle Wrap expert!
Vinyl Graphics, Partial Wraps, & Magnets
In our experience, vehicle graphics for marketing purposes are one of the best investments that our clients make. They are very effective in their purposes, especially when properly strategized according to design and extent.
Full Vehicle Wraps
Vehicle wraps start with a full covering option. Despite having to cover your entire vehicle with graphics, it is relatively cheaper compared to other signage products. Still, it is a massively effective promotional tool!
Turn the regular vehicle that you use for work into a mobile billboard! Drive your business van or sedan anywhere or just let it sit in a parking lot, and it will effortlessly spread the word about your products and services to anyone who sees it. Furthermore, whatever image or text you want to display with your vehicle, whether a simple rendition of your business name or full-color branded photos, we can easily print that out and wrap it around your vehicle.
Because our wraps are made only from industry-grade material, you can expect that your vehicle will have an extra layer of protection against scratches, rain, sunlight, and other common causes of paint damage.
Partial Car Wraps
Car wraps do not need to envelop an entire van or truck to be effective in marketing a brand. There is also an option to strategically pick the parts of your vehicle that will have wrapping. You can choose this if you're a little tighter on the budget or if your design preference is to cover certain portions of your vehicle's surface.
This will involve special cutting methods in order to shape the wraps perfectly according to their assigned parts. With Queens Printing Services's team of highly skilled and experienced vehicle wrap experts, rest assured that there will be no sign of warping, folding, or any error in the final product.
Vinyl Graphics
If you're looking to push the flexibility and design features further, you can order smaller cutouts of high-quality vehicle graphics to attach to your vehicle.
An example is if you want to put a logo on the back of your vehicle.
These vinyl graphics are not just smarter and more affordable. They are also easier to peel off once you think it's time to change your designs.
Vehicle Magnets
What if you need your vehicle to be covered by your branded images, but you also want to have the option to remove them anytime you want? Vehicle magnets are the products you need! If you want to, say, use your business vehicle for private use without all the ads, you can remove these magnetized graphics easily.
This is also the best option for business owners who typically park or go to areas where vehicle advertisements are not allowed by local ordinances.
The great thing is you don't have to compromise on the design of this product. You can still showcase virtually any image or text using vehicle magnets!
Perforated Window Film
What about the windows? Can we still cover them without having to compromise the driver's view? Of course! With perforated window film vehicle covers, you can also decorate your windows as well as the other surface areas of your vehicle.
The design of this product is that they display graphics on the outside, yet they can still let light pass through the other side. This option is great for you if you want designs that go until your windshield or door windows.
Professionals Wraps for All Vehicle Types
Is there any limit to the designs that we can do for your business vehicle?
As far as we know, there aren't! With years of experience in the field and highly skilled signage experts, we have garnered the trust of many clients as we provide nothing short of high-quality vehicle wraps and all the services that go with providing them. Whatever creative idea you have for your car or van, we can definitely turn it into reality!
From designing your logos and images to manufacturing large quantities of wraps and signs, installing them with elite precision, and repairing scratches and damage, we can do it all for you with top-notch workmanship, quality, and professionalism!
Every sign enlisted here can be provided by our company at its peak quality, even if you want them to be designed in totally unique, customized ways!
Are other graphic products available? Of course! More than vehicle wraps, we also offer a vast array of signage products to our clients. As a top signage company, you can rest assured that any product you get from us, whether simple vinyl clings for your glass walls or large monument signs as your storefront, you will get them at the best quality possible!
Attractive Wraps for Your Entire Fleet
The client's vision is the direction we look to during every project we handle. We ensure that every wrap or graphic we create effectively achieves its purpose, whether it's to portray important information, promote a brand, or make a vehicle look good.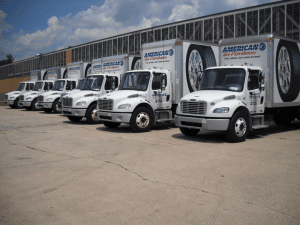 Many clients who need vehicle wraps are businesses that need a physical presence sent to the address of their customers. Examples include animal control services, repair services, construction services, telco companies, and moving services.
So when it comes to getting vehicle wraps for these businesses, they don't just need something for promotion and decoration. They also need designs to make them look professional and trustworthy.
Just tell us the kind of business you run, and we'll provide everything you need, including ideas on how to maximize your wraps to help improve your business operations!
Promotional Car Wraps
Do you have a food truck business? Do you run a construction firm?
If your business is highly dependent on vehicles for the smooth and regular operations of your transactions and services, you definitely need promotional car wraps to make sure you're making the best out of all your advertising opportunities.
When you bring your business vehicles outside, your clients are just some of the ones who will see your vehicle wraps. Anyone out there on the streets will have a glimpse of your vehicle and will therefore be a recipient of your advertising efforts.
With vehicle wraps, people are more likely to trust the quality and the validity of your business.
If you don't have an office or headquarters, or if your business requires you to visit client locations and other destinations regularly, this product will be amazing. Plus, they also add protection to your vehicle's paint!
Custom Boat Wraps
What if your business has boats? No problem! Beyond wrapping cars with attractive graphics, we also do boats and any waterborne vehicle you may have! These wraps are marine-grade and water resistant that can last for more than you think they would!
Because our waterborne vinyl is highly durable, you can also apply them on other land vehicles that are constantly exposed to harsh environments, such as trailers and trucks.
They can last for a long time as they effectively promote your branded texts and images!
Boat Identification Numbers
Another vital role that vehicle graphics fill, especially when it comes to waterborne vehicles, is that they display important information, such as the boat's name, business details, and licensing information. These can all be imprinted on your water vehicle using durable vinyl so they can last for a long time exposed to marine environments without getting washed away.
Your Designs, Perfected
Everything you need from top-quality products to stellar customer service is at Queens Printing Services! If you go to us, all you need to do is to share your goals and ideal products. We are capable of doing all the services involved in signage production and vehicle wrapping.
If you already have a design in mind or you need help from a skilled graphic designer in building a visual brand for your business, you can go to us! Just tell us what you want for your company, and we'll provide every service you need.
Full-Service Vehicle Wrapping
Queens Printing Services's priority is to provide Rego Park vehicle wraps made of the best possible quality. From the designing process up until the installation phase, we always exert the best craftsmanship, skill, attention to detail, and professionalism to ensure our work's quality.
On top of this, we always provide great customer support! Our experts guide our clients in deciding throughout the process, from the initial consultation up until the time that they need replacements or repairs. We always give them the right recommendations so they can make the most out of the products we provide.
Our consultation sessions are free. This is because we want to take the time to listen to the needs of our clients and to prove to them the quality of our products and services. We also aim to build a good rapport and working relationship with our clients should they need more products.
After ironing out all the details of the project during the consultation, we will provide a draft of the plan and a mock product so you can have a quick peek at what the final product will look like. If you see any need for changes, we will do it accordingly. Once the final idea has been officialized, we will continue manufacturing as soon as possible.
With a complete set of equipment and facilities, we guarantee the quality of all signage products you acquire from us. We conduct thorough quality-control sessions for every product that we create to make sure that each unit is flawless and free from any sign of imperfection or deviation from the original design plan. Even installation, repair, and maintenance services can be provided by our company. We are your one-stop shop for all your needs in getting Rego Park vehicle wraps!
Free Vehicle Wrap Consultation

Vehicle wraps are one of the top ways a business can exponentially expand its marketing reach without spending too much funds. Once you give us a call, you have to tell us your goals and needs. Our Rego Park, NY print company has the complete team to provide every service you need, from design to installation!
Whether your business vehicles are driven on land or water, we can design and create the perfect vehicle wraps for them. We will make sure your branding and business message will be effectively promoted wherever you take your van, trailer, boat, or sedan.
Call Queens Printing Services today at (917) 651-0524 for your Free Consultation with a Rego Park Vehicle Wrap expert!