Whitestone Graphic Design
The effectiveness of your marketing materials relies heavily on how they look. That's why if you want to ensure that they help build a professional image that can impress and compel your potential customers to trust you, don't hesitate to invest in our Whitestone graphic design services at Queens Printing Services!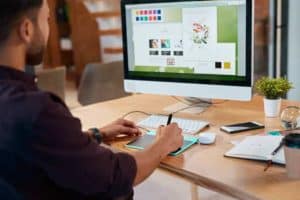 Our team always dedicates 100% of their skills to customizing the design of your business signs and other marketing tools. We won't provide you with mediocre signage with generic templates but would instead tailor every design detail to be brand-appropriate and eye-catching, making sure that it would all work together to make your marketing material as persuasive as possible.
From transforming your storefront with attractive outdoor signs to enhancing your interior with captivating and informative graphics, our graphic design experts are always ready to customize your needed materials to fit your specific marketing goal. And aside from your brand and personal style preferences, your budget will also be an important factor for us to consider, as we'll tailor the design to match your choice of material, finishing type, and style elements.
Call Queens Printing Services at (917) 651-0524 for your Free Consultation with a Whitestone Graphic Design expert!
Custom Logo Design
If you are a start-up company looking to build an impressive brand image, Queens Printing Services can provide you with a logo design that is unique and memorable. Or, if you're in the process of rebranding, we can help you update your current logo and make it more appropriate for the business personality that you're going for.
Feel free to tell us about your design ideas so we can get a clearer picture of what you want and build on it. However, if you don't have any specific stylistic requirements and would want our team to start from scratch, we can always put our creative twist on your branding elements and make one outstanding logo out of it.
Aside from having the appropriate brand colors in an eye-catching overall look, we'll ensure that your logo will be an appealing addition to your marketing materials, employee uniforms, and even business documents.
Business Branding
Branding, alongside advertising, is an important aspect of a successful marketing campaign. And at Queens Printing Services, our Whitestone graphic design experts can help you achieve this by providing you with brand-reinforcing looks on your signage, informational graphics, packaging, employee uniforms, company giveaways, and other marketing materials that you may need.
We'll make sure that with the consistent and creative repetition of your branding elements throughout your entire marketing material collection, people will be more familiar with your label. So the next time they see your packaging, brand colors, or company slogan, they can easily remember and identify any of your products or advertisements.
This will be greatly helpful since research shows that when people are more familiar with your brand, they tend to be more receptive to your promotional campaigns, which will generate more traffic and sales over time.
Custom Signs and Banners
You can see better marketing results by using attractive signage that strategically highlights the core of your marketing message. But to elicit your desired response (e.g., signing up for membership, buying your products, scheduling an appointment, donating to your cause, etc.) from your target market, you will need custom signs and banners tailored specifically to your messaging goals and brand image.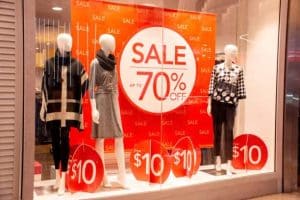 Fortunately, that's exactly where Queens Printing Services excels at! We can give any of your needed signage the customization you desire, not only in their graphic design but also with other stylistic elements (e.g., material choices, illumination, finishing type, shape, size, height, etc.).
We will use high-quality materials that fit your budget while making sure that neither the attractiveness nor the functionality of your signage will be compromised.
Our goal, in the end, is to provide you with customized marketing material that will effectively reinforce your brand and promote your business for as long as possible.
Your Designs, Perfected
If you already have a specific design in mind and want our Whitestone graphic design experts to create the design file before putting it into production, we can easily complete the process and ensure that your final graphics will have the high resolution you wanted.
On the other hand, which is mostly how our clients come to us, you can tell us about your initial design ideas and allow us to improve them with professional creative recommendations. We will create a design based on the details you give us and present it to you for approval. You can then proceed to request some changes or give us confirmation to realize the designs in your signs and other marketing materials.
Full-Service Print Shop
Aside from graphic design, Queens Printing Services also offers other services that could help you address all of your printing needs. Our team has the skills and top-of-the-line equipment necessary to complete any printing project that you may require efficiently.
Included in the services that we can seamlessly provide are:
Digital printing services

Screen printing services

Copying services

Binding services

Direct mailing services
And since we are a full-service print shop, we are proud of our comprehensive list of printing products. Everything can not only be customized in graphic designs but also be tailored to have the specific printing material that you want, ensuring that your marketing tool will have the maximum durability and attractiveness possible within your budget.
Included in our most popular printing products are:
Brochures

Business cards

Postcards

Promotional items

Business signs

Newsletters

Internal business documents
So the next time you need anything printed, designed, copied, bound, or mailed for your marketing campaign, don't look further than Queens Printing Services. We always work with 100% commitment to providing you with excellent products and services that best maximizes your investment.
Let's Talk – Free Graphic Design Consultation

If you want to increase your customer base and, eventually, your overall sales, you should start by investing in professional-looking marketing materials that will compel more people to prefer your business over your competitors.
From outdoor signs that give you a unique, captivating storefront to other marketing materials that make your overall brand image more appealing and memorable, everything must be expertly designed to yield the best marketing results you can hope for. That's why our Whitestone, NY print company is here!
Talk to our graphic design experts about your marketing needs today, and we can immediately start working on giving your marketing tools the most attractive, persuasive look possible.
Call Queens Printing Services at (917) 651-0524 for your Free Consultation with a Whitestone Graphic Design expert!